Welcome to the



Home Page!

Since 2003, a web site for those who know and love the Sande Ace runabout
built on the shores of Hood Canal near Belfair, Washington from 1956 to 1962.

If you own a Sande Ace or have any information about this boat, please call or e-mail.
Old or new photos of these boats in any condition would be especially appreciated.

Ed Waali -- (360) 275-5684 or (406) 251-5410 -- edwaali@gmail.com
Ned Hamlin -- (208) 726-4991 -- ned@nedhamlin.com


---
How Fast is a Sande Ace?
Ned and Ed in Ace Race 2005, then the first in probably 35 years.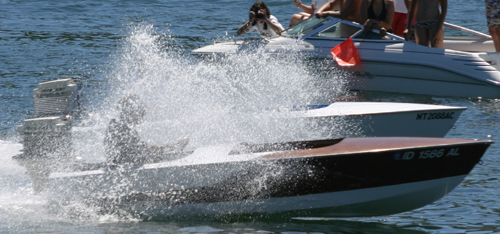 One question we get frequently is: "How fast is a Sande Ace?" Of course, there are many variables but speed was addressed in the 1956 original plans.

- 32 MPH with a 16 HP Evinrude
- 36 MPH with a "25 HP outboard motor"
- 50 MPH with a 40 HP Mercury with a quickie lower unit
32 to 50 MPH with those motors? Wow!
Granted the original Ace was a lighter 12-footer and not 13 feet like the Sande Ace and it used lighter 1/4" plywood for the bottom and not the 3/8" that the Sandes used. The motors were probably not electric start avoiding the extra weight of the battery and starter motor. The Quickie racing lower unit helps.
Maybe Eddie Arcaro was at the helm but 50 MPH? Perhaps there was exaggeration to help sell the original plans or a bad speedometer. Click here or on the photo to see what we know about the 13-foot Aces.



---

2017 Sande Ace Rendezvous

The turnout was a bit smaller this year but we were able to look over the boats faster and get into the water earlier.



Five boats on the beach. The Waali Ace was tied to the buoy.
Click here or on the photo to see the events of the day.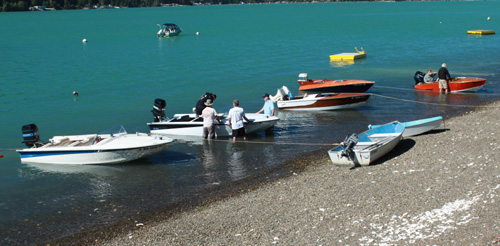 ---
Click the photos below for more good looks at these great boats and more on earlier Ace Days.



2005

2006

2007



2008

2009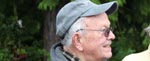 2010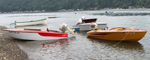 2011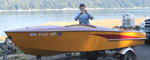 2012

2013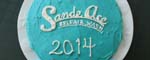 2014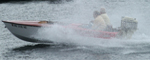 2015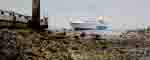 2016
---
How Many Aces Are Running About Today?
Here are pictures of 13 Sande Aces, three recently-built Aces and two open cedar strip Sande boats taken 2005-2013, mostly at the Rendezvous. There are some more cedar strip boats out there and a few more Sande Aces perhaps along with several new Aces under construction. For another look at numbers, check the Sande Ace Registry.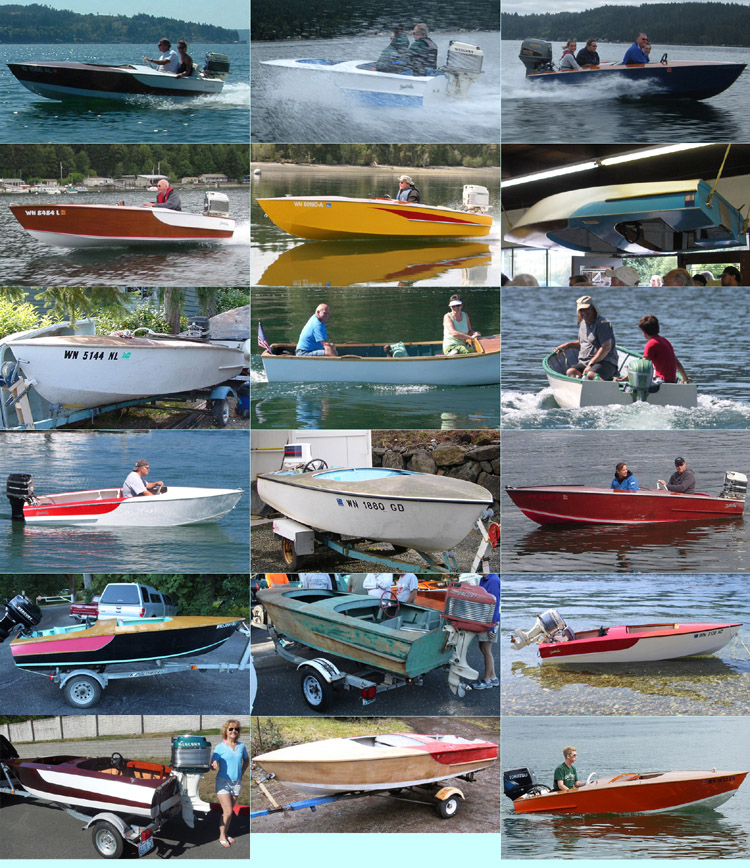 ---
---
Thanks to the Sande Ace fans who keep this meter rolling.

Just in case someone searches the Internet for "Sandy Ace" runabout,
this sentence might help them find this site.
---
---